Autumn is the time when many young people come together to a mesmerizing Northwest.
They come here not only to immerse themselves in the breeze fragrant with the scent of ripe rice but also to listen to mysterious stories told by the people here, short stories about a beautiful mountainous and colorful cultural place.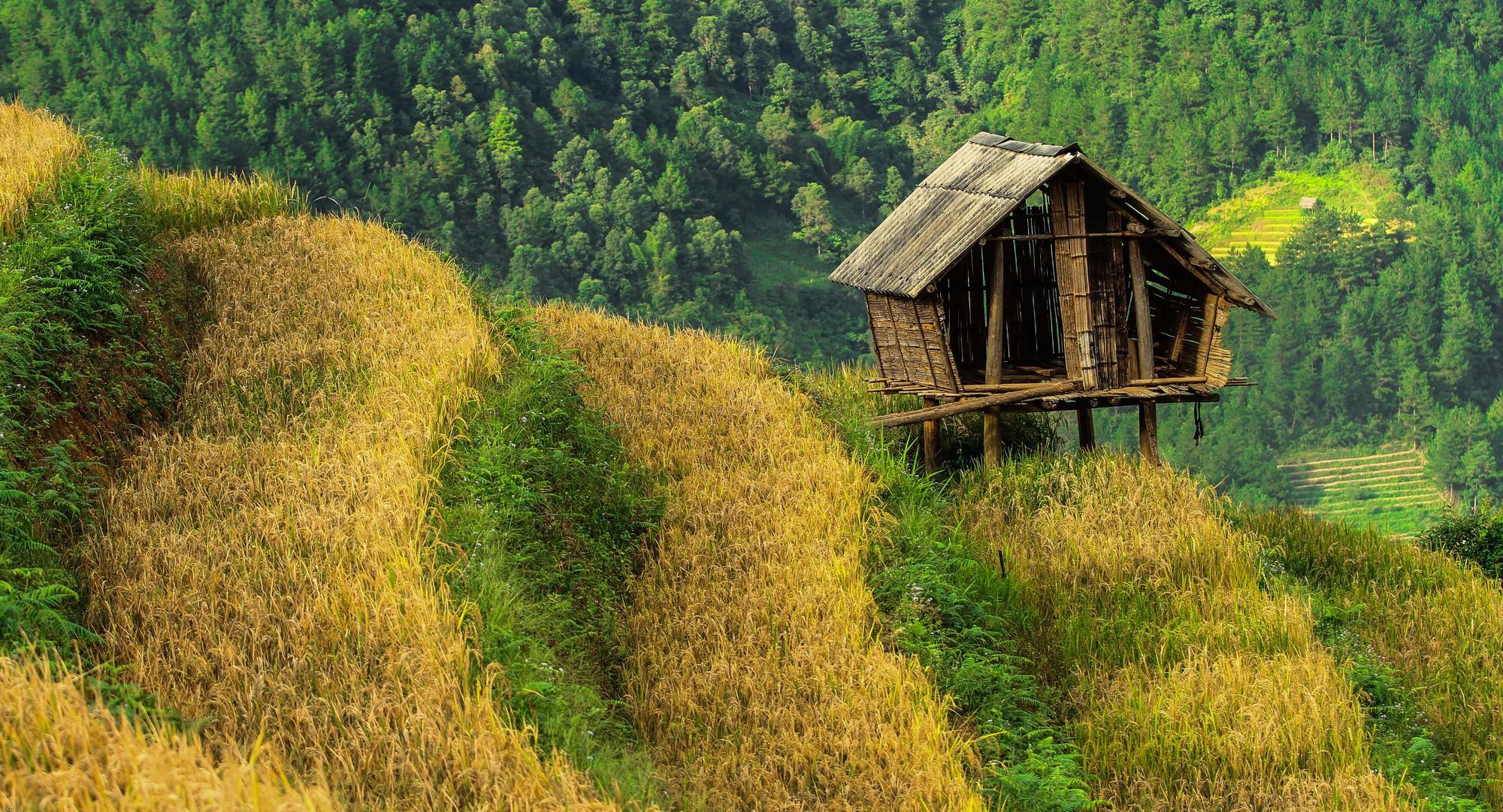 When talking about Yen Bai, most of us will think of the golden terraced fields in Mu Cang Chai, the tea forests lying halfway up the mountain of Suoi Giang, or the grandeur of the Pu Nhu waterfall. But not many ones know, Yen Bai also owns a mysterious place that is enchanting many young people who love to explore culture, full of mysteries that everyone wants to experience once.
That is Tu Le commune, a valley of nearly 3,000 ha in Van Chan district, under 3 mountains Khau Pha, Khau Song, and Khau Than. This place is known for its charming northwestern scenery, fragrant sticky rice, and the most prominent of which are probably the sacred customs of the Thai ethnic group.
Tú Lệ rice
About 50km from Mu Cang Chai to the East, every September, if you move on Highway 32 from Nghia Lo town and suddenly smell a mild scent of rice, it means you have come to Tu Le commune.
The Thai people here often tell stories about their ancestors, when they reclaimed the land, accidentally found sticky rice with large, round seeds and a sweet aroma. Then, they decided to stay in that land, set up a village, and then multiplied rice to cultivate, thereby creating the Tu Le region with the unique culture of the Thai people today.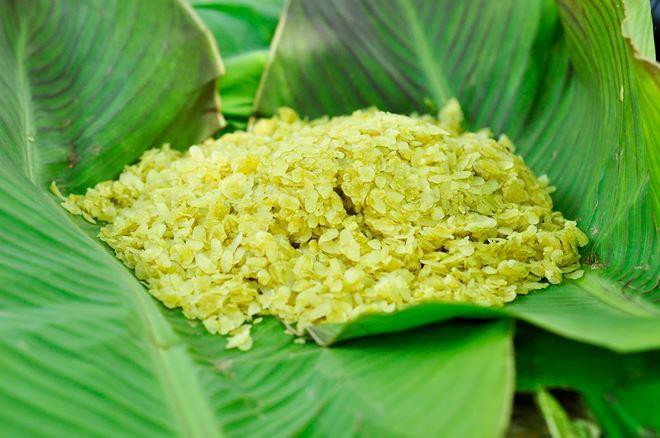 In addition to making "com", this famous sweet sticky rice is also used to cook with some fruits, or made the porridge with duck broth are still considered the culinary essence of Tu Le people.
More interestingly, the rice of Tu Le, if cultivated in the vicinity, will not be able to produce a rice grain comparable to Tu Le. According to researchers, this special feature depends on natural conditions such as climate, water resources, and soil, only at the foot of Khau Pha Pass. So for many generations now, people here consider sticky rice as a special gift that God gives them.
Hot spring with "fairy bathing"
In addition to sticky rice, Tu Le is also gifted by nature with a unique gift that few other places have, it's the famous hot spring of Chao village, attracting tourists to visit and immerse in warm water once.
In the past, when tourism was still underdeveloped when thinking of Tu Le, many tourists assumed that the image of this fairy valley was Thai girls bathing naked nearby the stream, a simple but not vulgar beauty, making anyone who came once will remember forever.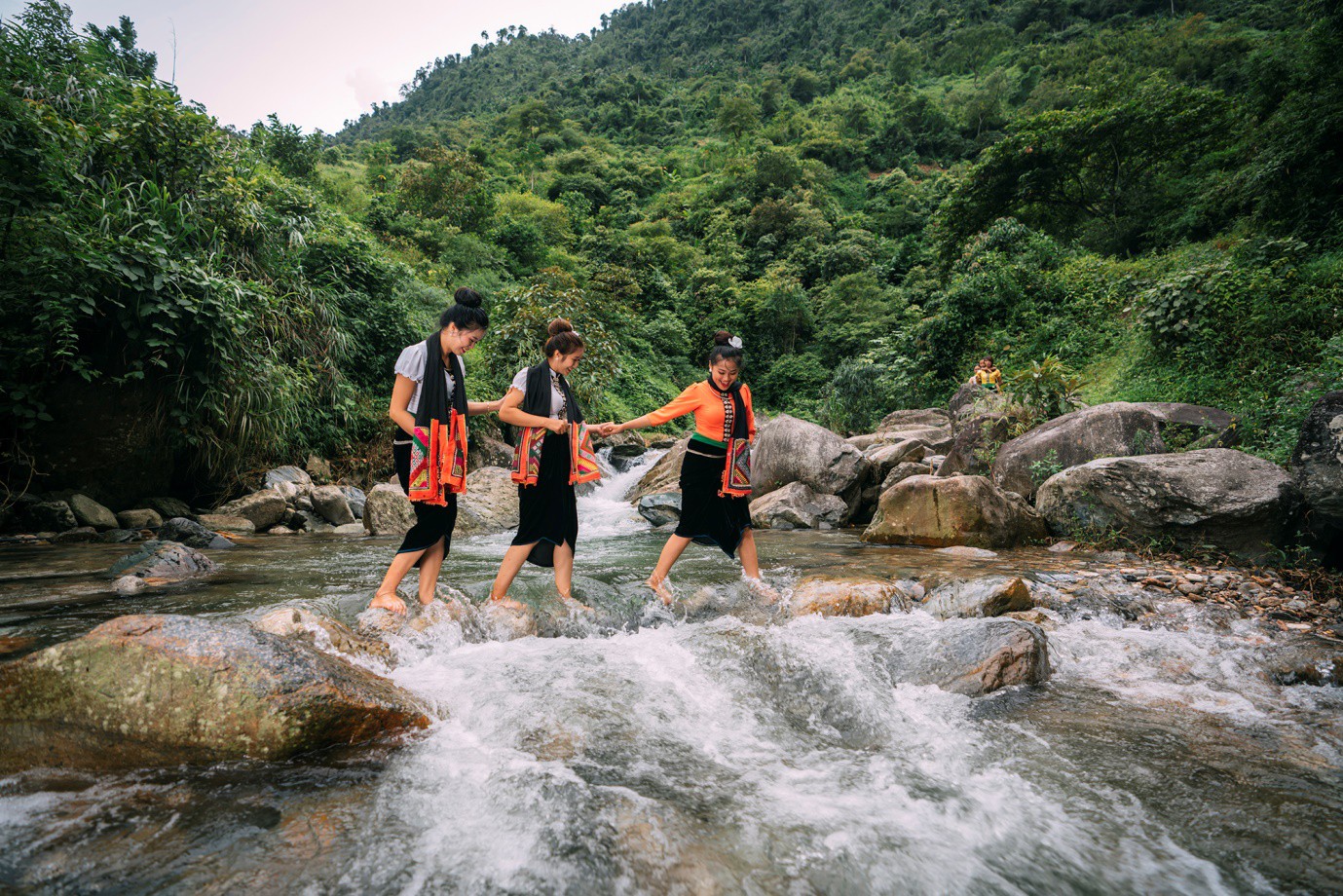 Beautiful Thai girls by the stream
According to people in Tu Le commune, "naked bathing" is a unique cultural practice that is always appreciated and preserved by Thai people. Hot mineral water from the ground is stored in a swimming pool built by local people, so that after a day of hard work, they will immerse themselves in the water, as a way to relax and recharge.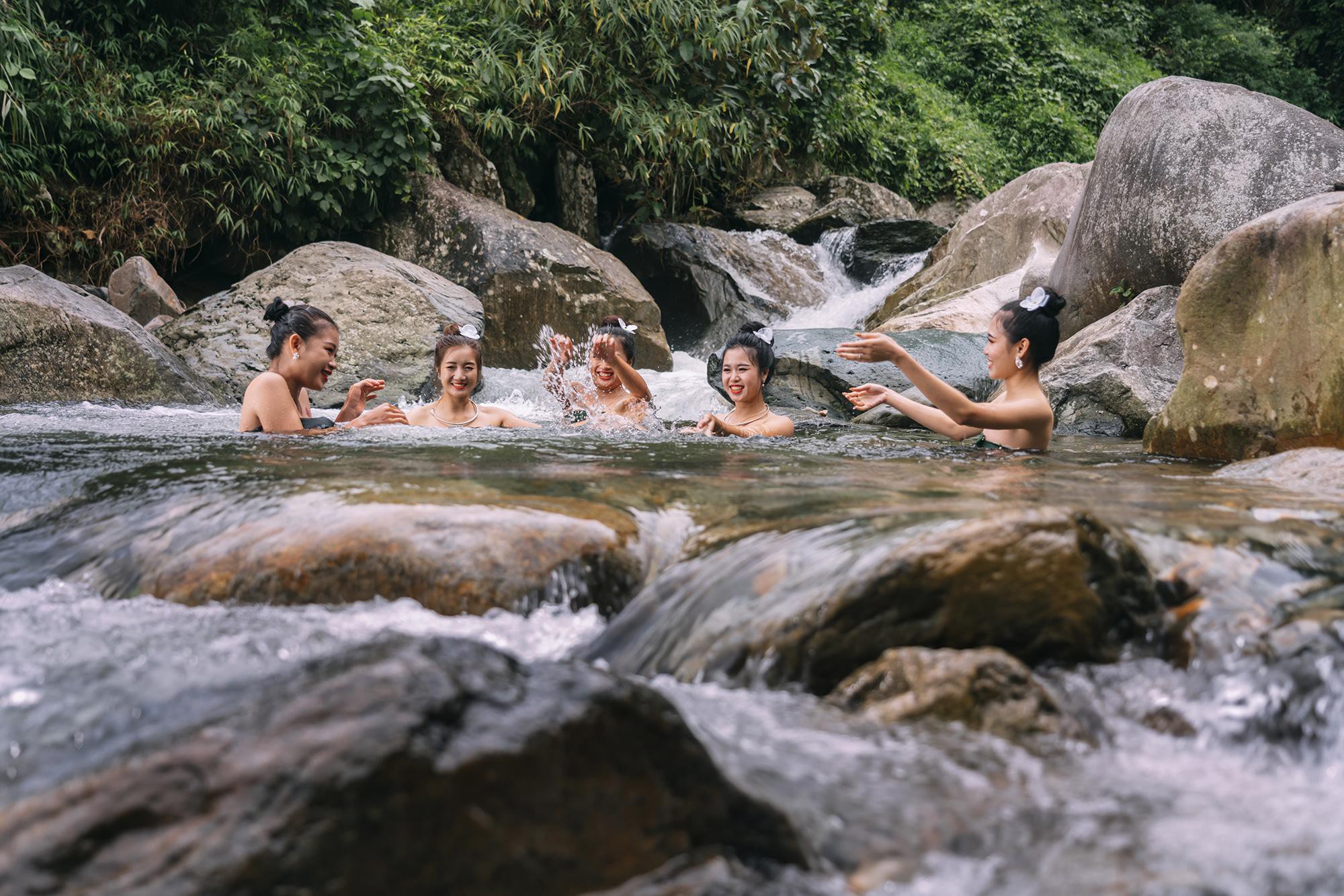 Naked bathing – one of the most unique Thai customs
They also said that the mineral stream is like a miracle remedy that can cure all diseases. The sick person baths in hot spring, the next day will feel awake, they drink water from the stream in the morning to cure sore throat, and the Thai women bath in the stream regularly, so their skin is always white and smooth.
Although it is called "naked bathing", Thai people bathe in mineral springs very civilized, boys and girls always keep their distance. Men wear shorts, women wear a scarf to cover their breasts, and leave the upper half-naked in the water. This is also a factor showing the solidarity of the community and the spirit towards beauty in the lives of the people here.
The natural beauty of Tu Le
Like La Pan Tan, De Xu Phinh during the golden season of terraced fields, in September and October, Tu Le shines a bright yellow color of ripe rice fields. The waves of rice fields, the small stream reflected the afternoon sunlight, making a magical scene that no one could experience in the city.
Unlike other places, Tu Le field feels much more "gentle" because it is not lying on the hills or deeply hiding in the valley. It is also a terraced field, but in Tu Le it brings a feeling of closeness, just reaching out your hand also can touch the charm of the "fairy" in the Northwest.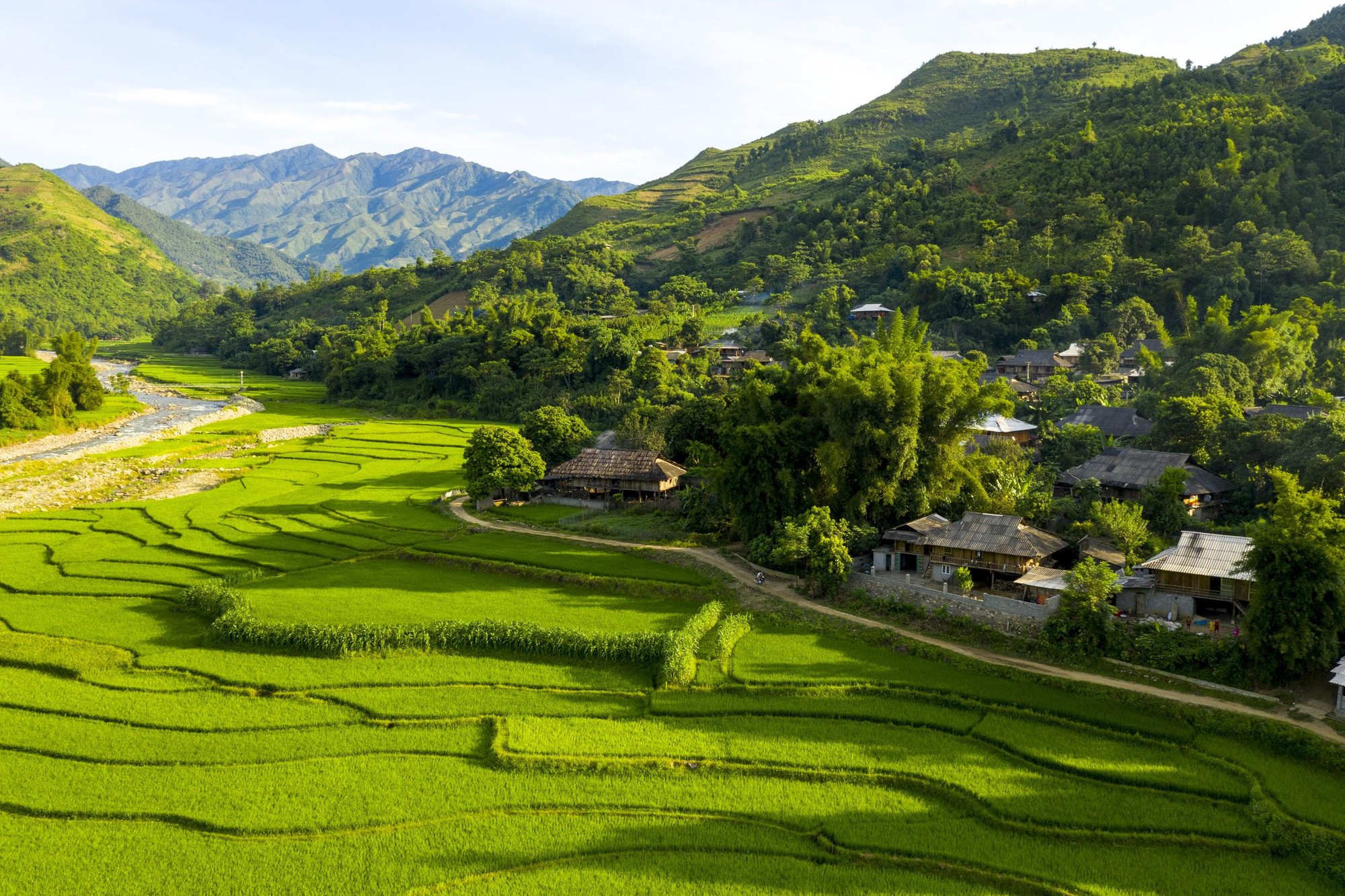 Tu Le in the morning
In recent years, with the investment of Yen Bai province and enterprises, Tu Le is also becoming more and more beautiful and elegant. The roads are improved, the hot springs are properly utilized and become an attractive tourism destination, the landscape is also more beautiful and attractive.
The appearance of luxury resorts like Le Champ Tu Le shows that this land is reaching out to become a prominent tourist destination in the Northwest.
Most notably recently is the appearance of a luxury resort named Le Champ, newly completed in the center of Tu Le. With a mountain-back position, surrounded by the rice fields, this resort possesses a full range of amenities and classy services, highlights between the green landscape at the foot of Khau Pha Pass, providing not only young people but also even tourists from all over the world to have a more perfect experience in this mysterious mountainous land.
A sunset at Tu Le, nothing is as wonderful as the feeling of soaking in mineral springs, feeling fragrant of "com", watching the sun slowly pull down behind the pine mountains.